The best restaurants in Barcelona
for Catalan cuisine
---
Exploring MWC19 is likely to leave attendees famished, which is the perfect opportunity to try out the local fare. Food writer Trinitat Gilbert (@trinigilbert) gives us the lowdown on the best places in Barcelona to have Catalan cuisine, including plenty of seafood and tapas options.
Catalan cuisine is living a golden age. It has become well aware of its origins, thanks to medieval recipe books, and chefs are rethinking techniques and cooking concepts. Master chef Ferran Adria preaches non-conformism in the kitchen. Why do omelettes have to be solid and eaten using a fork? He made them liquid so they had to be eaten with a spoon.
Nowadays, Adria's ways are to be found in many of Barcelona's restaurants. At the same time, the city is undergoing a new revolution, pairing gastronomy with health. Catalan cooking is as healthy as it is gourmet. Vegetables, fish and gluten-free food are delicacies in a lot of restaurants.
Here is, in no particular order, 12 restaurants to enjoy when you leave the Fira halls.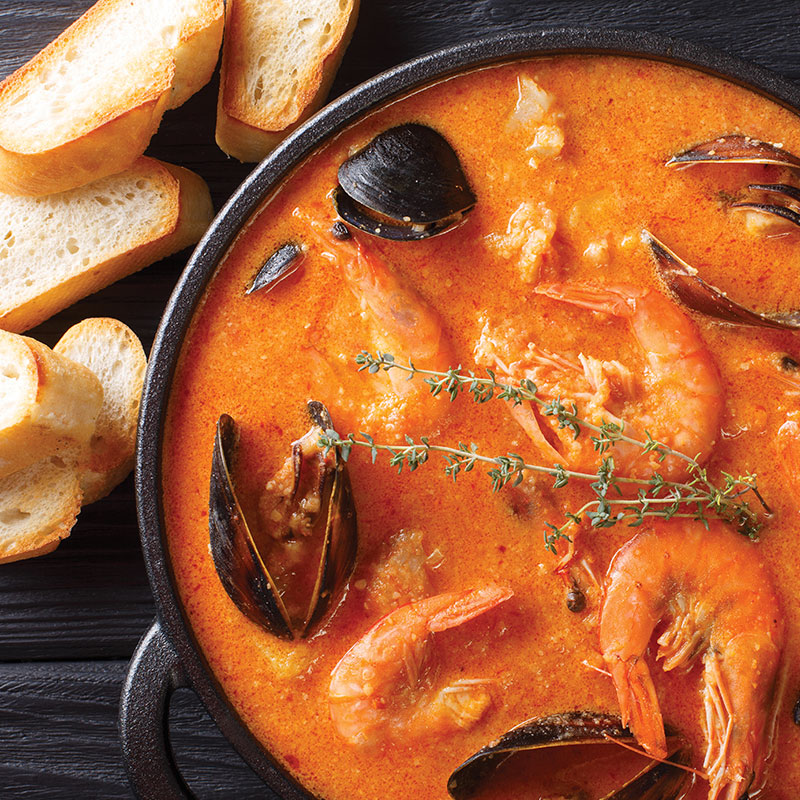 Blanc (€€€)
Hotel Mandarin Oriental. Passeig de Gracia, 38
---
Three-star chef Carme Ruscalleda consults for Blanc Restaurant, located inside the Mandarin Barcelona Hotel. Fish dishes, vegetables and meats are the main items of a menu based on Catalan and Mediterranean cuisines. One of the most recommended dishes are peas, but rice is important too. The place is large and luxurious, as any restaurant in a 5-star hotel must be. The Mandarin Hotel also contains the 2-star Moments Restaurant, offering a creative menu based on opera, travel, cinema and other themes.
Monvinic (€ – €€€€)
---
Ariadna Julian heads Monvinic, offering a huge variety of wine from around the world, as well as ecological, seasonal and proximity cuisine. Lovers of food-wine blending must visit for the opportunity to have a glass of the most exotic and quality wine. A menu displayed on an iPad will show you the wide variety of wines kept in their large cellar. The chef is an expert in Catalan and French cuisines. Our recommendations: vegetable and mushroom coca, artichoke dishes and any fish.
Valmas Barcelona (€€€)
---
Natalia Jokie, Valmas's owner, said she was fed up with serving croquettes every day. They had a menu with many available dishes, but everyone ordered croquettes. So she asked chef Melissa Herrera to prepare a secret menu, which is highly recommended because the complex and well-prepared meal is a surprise for those who eat it. The waiter will ask about any intolerances and preferences, and then the chef will prepare several dishes that are a secret until they arrive at the table. All the dishes are prepared using fresh produce.
Flax & Kale Passage (€€)
---
This is one of the newest restaurants of the Teresa Carles group, which has a proven track record in healthy, vegetarian and gourmet cuisine. Flax & Kale Passage specialises in gluten-free food, including pizzas made in front of customers and cooked in a wood-fired oven brought from Italy. Owner Carles went to Naples to learn how to cook pizza, but at Flax & Kale Passage she developed her own formula using gluten-free flour, and several Neapolitans have said they were as good, or even better, than the ones from Naples. Recommended: the Kombucha tea, prepared in a laboratory that can be seen from the restaurant, and any Asiatic dishes.
Cinc Sentits (€€€€€ plus wine)
---
Chef Jordi Artal has brought his homeland, Terres de l'Ebre, to Barcelona. Olive oil and a landscape of olive trees set the scene for the restaurant, but at the table the focus is on the product. Mushrooms, ostrich and fish from Pyrenees rivers are cooked in the best way to emphasise flavours. And desserts are as surprising as the main dishes: wine textures, eaten with a spoon, are one of the sweet dishes with more devotees at Cinc Sentits. Our recommendation: wine pairing proposed by sommelier and head waiter Eric Vicente. His suggestions are as attractive as the dishes themselves.
Ca L'Isidre (€€€€)
---
Nuria Girones is the cook of Ca l'Isidre where she practices ecological, seasonal and proximity cuisine. Cheeses, desserts and wines are also exceptional. Her father, Isidre Girones, is a classic name in Catalan gastronomy. Winner of the 2017 award from the Catalan Academy of Gastronomy, he can often be found discussing Catalan cuisine with patrons.
AbaC (€€€€€)
Hotel AbaC, Av del Tibidabo, 1
---
Jordi Cruz was one of the youngest chefs in the history of the Michelin Guides to get a star when he worked in the village of Cercs. Now he has three for the restaurant he manages in Barcelona. His dishes play games with all your senses, because what you see is not what you taste. The best thing is the way patrons start eating: in the kitchen, standing next to the chef, where they eat the entrees. Once you've seen the kitchen and its hidden secrets, you go into the large and distinctive dining room to enjoy the rest of your meal.
Bodega 1900 (€€€)
---
This is the most traditional and casual proposition by Albert Adria, Ferran's brother and sidekick who has been recognised as the best pastry chef of the world. It's perfect to eat some tapas such as the famous olives esferificades in an atmosphere that simulates old Catalan cellars: the place to drink wine and eat. Across the street from Bodega 1900 you will find Tickets, another restaurant of the chef, and very close by a third one: Enigma. You can't go wrong with any of them, but Bodega 1900 is the most unpretentious.
Cinco Jotas Rambla (€€€)
---
If you are into Iberian ham, at Cinco Jotas you will find the best one. The name actually refers to a premium brand of Iberian ham coming from Extremadura, Spain. Besides ham, which waiters slice in front of patrons because it is tastier that way, you can also order Iberian meat, cooked in many ways. Wines are selected to combine with the Iberian food. Our suggestion: croquettes (of ham, of course) and coca of Folgueroles, a sort of Catalan pizza that comes from the small village of Folgueroles.
Rasoterra (€)
---
Rasoterra's focus is vegetarian cuisine. Managed by Italians and established in Catalonia, they are connected to the Slow Food movement. Why do we have to eat a vegetable that has travelled around the world, when there are farmers harvesting it next to us? Among recommended dishes are pasta dishes and trinxats made from potatoes and espigalls (flowering cabbage), a vegetable cultivated near Barcelona.
Pur (€€€€ or €€€€€)
---
Some people say Nandu Jubany reminds them of Jamie Oliver: he's active, owns several restaurants, and loves his job! True or not, Pur is his newest outlet in Barcelona. The name itself wants to say something to us: pure. It is pure because produce, select and fresh, is the most important thing in the restaurant. Jubany's signature does the rest, because he has been working for a long time, and his dishes mean the best food anyone can imagine. Jubany operates another restaurant right next to Pur: Petit Comite, where, among others, the rice shines.
La barra de Carles Abellan (€€€€€)
Hotel W Barcelona. Placa Rosa dels Vents, 1
---
Carles Abellan recently won his Michelin star by cooking fresh fish and shellfish every day right in front of patrons. He has just moved his restaurant inside Hotel W Barcelona, with a scenic view of the beach and the Mediterranean sea where the food cooked originates. Abellan is well known for his tapas, which he also serves at Tapas 24 (Diputacio, 269).