By Pablo Iacopino Director of Ecosystem Research at GSMA Intelligence
---
Beyond connectivity: how far have operators gone?
Operators have long sought new revenue streams beyond connectivity to offset stagnating core revenues and grow their presence in the digital ecosystem. Areas include pay TV, media, IoT, enterprise solutions and the broader universe of digital services from finance and payments to lifestyle. We compared 2017 and 2018 data for 16 of the largest operator groups in the world, laying the groundwork to track future performance. The findings shed light on exactly how far operators have gone and the outlook beyond core in the 5G era.
Analysis
---
Telecoms services remain the dominant source of revenue
For most major operator groups, core mobile and fixed services account for 80–90% of revenue, with non-telecoms at 10–20%. For AT&T and SoftBank, non-telecoms reached around 40% and 30% respectively but these are the result of M&A rather than organic growth. AT&T is the largest outlier, having spent $150 billion acquiring DirecTV and Time Warner. Turkcell (25%) provides one of the broadest portfolios of digital services to consumers spanning lifestyle use cases, with 94 million digital subscribers.
Non-telecoms services are a $10 billion business, if not bigger, for many operators
A low proportion of total revenue does not necessarily mean low strategic importance. Connectivity is a big business (mobile on its own is worth $1.1 trillion in revenue) so any non-core service would inevitably represent a fraction of it. However, looking at size of revenue as opposed to contribution, non-telecoms services are already a $10 billion+ business for Verizon, SoftBank, KDDI, China Mobile, China Telecom, NTT Docomo and Telefónica. For half the operators analysed, non-telecoms services are the only source of growth due to stagnating mobile and fixed revenues.
Operators in Japan and South Korea lead on revenue generation from adjacent services
Targeting the digital consumer through a range of lifestyle services is the common strategy in these markets. To drive focus and results, KDDI and NTT Docomo have established Life Design and Smart Life respectively; these businesses are worth $5 billion and $4 billion in revenues already. South Korea provides a notable example of operators tapping into financial services and commerce at scale as consumers embrace mobile finance. The GSMA Intelligence Consumer Insights Survey shows South Korea as the leader in mobile commerce, with 43% of smartphone owners purchasing goods/services at least once per week, with little variation by age. For KT, financial services generates $3 billion in revenue (15% of total revenue).
Enterprise is not growing significantly
The enterprise segment has mostly been about fixed and mobile connectivity so far for operators, augmented by a range of managed services and ICT solutions. Recent trends show smaller operators winning share from incumbents (diluting prices) – and those additional services are growing slowly. The result is that enterprise revenue – which should compensate for consumer stagnation – is not growing much (declining in some cases), accounting for 20–30% of total revenue for many of the operators reporting data.
IoT remains a small fraction of total operator revenues
IoT generates 1–2% of operator revenues, ranging from 0.4% (China Telecom) to 1.7% (Vodafone). SK Telekom is an outlier at 4.7%. The relatively small size of the business is driven by lower data unit prices compared to mobile subscriptions. China leads on growth, with IoT revenue growing around 50% (local currency) in 2018 to $1.7 billion, in large part driven by the rapid expansion of NB-IoT as a means of facilitating scaled low power builds. As operators expand their IoT offerings beyond connectivity, the addressable market grows, as does the opportunity to take a bigger share of the $1.1 trillion IoT revenue forecast by 2025.
Contribution of non-telecoms services to total operator revenue, 2018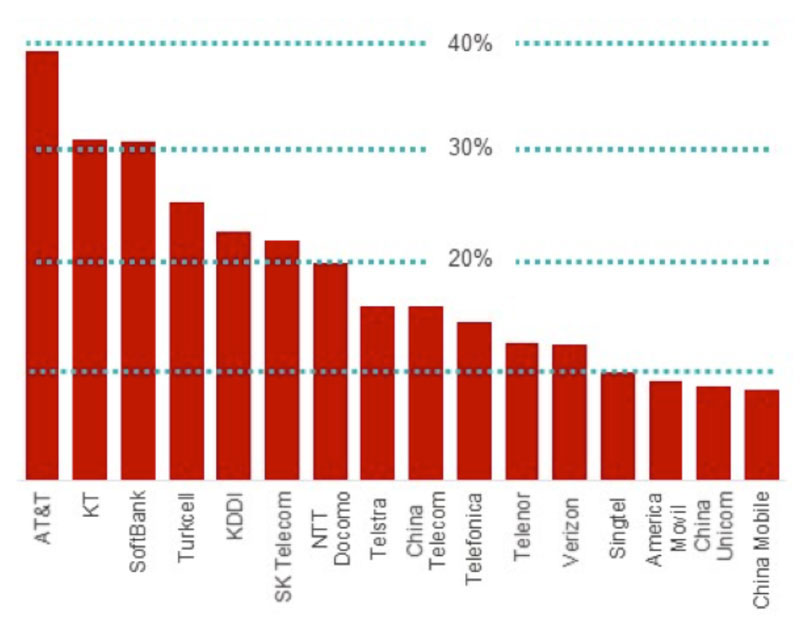 Source: Company figures at group level and GSMA Intelligence reclassifications/estimates
Implications
---
Stagnating core financials are driving new thinking
With core telecoms revenue and EBITDA flat, seeking sustainable growth beyond connectivity will increasingly be a target over the next decade for many major operators. The biggest challenges will be to find the right balance of resources and efforts for defending core operations and exploring new opportunities, and embracing a long-term organisational culture that stimulates innovation and digital transformation.
M&A gives a boost but is an option for only a handful of operators
Growth beyond connectivity will continue to be organic for most operators given still high leverage. As such, the operator revenue mix will likely continue to change at the current rate (non-telecoms services adding 1–2 percentage-point contributions to total revenues) rather than drastically.
Revenue is only one part of the strategic rationale
Beyond new revenue streams, digital services help build premium customer bases, generating benefits for the core business such as improved churn and higher ARPU. Defending the core shouldn't be seen as less attractive. Many tech giants use a similar approach, providing a range of digital services to add competitive strength to their core businesses (Alphabet and Facebook are prime examples). The interesting question is whether at some point the focus will shift from defending core operations to expanding into new markets at scale. This would open up competition with new players but operators wouldn't need to take the entire pie to be successful (as they do for core telecoms).
An Enterprise 2.0 story is needed in the 5G era
With enterprise revenue not growing as hoped, a new enterprise growth story is needed in the 5G era by targeting digital transformation. Companies in a range of verticals are evaluating options to digitise product assembly and general operations management. This presents an opportunity for operators that can offer 5G with complementary infrastructure for low latency service (mostly data centres close to the edge) and analytics. Around 70% of operator CEOs agree that enterprise is the incremental opportunity in the 5G era. However, getting the capabilities (5G networks, slicing, edge and spectrum) in place to service enterprises fully will take time.
Regional outlook: one size doesn't fit all
In the US, non-telecoms is mostly about TV/media, shaped by recent M&A, the OTT threat (cord cutting) and early implementation of 5G in the media sector (live sports events). Europe, meanwhile, has the deepest level of fixed-mobile service convergence, which is likely to keep operators busy for the next few years (defining innovative bundling strategies and what comes after quad play). Chinese operators are betting on enterprise, backed by the government's ambition to make China a leading country in high-tech industries. Targeting the digital consumer through lifestyle digital services is the focus in Japan and South Korea.