Pablo Iacopino – Director of Ecosystem Research at GSMA Intelligence
---
Investing in 5G networks: what does it mean for operators?
5G is upon us. We all know that several operators have already launched early 5G commercial services in the US, South Korea and a few European countries, opening up a trend that will accelerate over the next two years. What many may not know is that, to bring 5G services to nearly 40% of the global population, operators will invest up to $ 1 trillion in 5G networks between 2019 and 2025. Much of this 5G capex will be back-loaded, reflecting the diversity in timelines and magnitude of investments across regions.
On top of it, operators will invest nearly $ 400 billion in legacy networks – mostly 4G – to either upgrade LTE networks to faster speeds or increase population coverage and traffic capacity, an important requisite for non-standalone 5G deployments. While the total investment – $ 1.4 trillion – may look challenging in a context of low single digit mobile revenue growth (if that) in most markets, the emphasis on 5G in pioneer countries such as the US, China, the GCC Arab States and part of Europe, suggests that revenue pressure is not impacting operator 5G ambitions.
China is moving fast on 5G (faster than it did on 4G) and has made it a national priority, with the 5G connectivity layer helping drive broader digital transformation of the economy. The US has made significant progress on spectrum allocations across all key frequency bands, and plays a pivotal role on 5G-based fixed wireless (FWA). South Korea will remain the benchmark for innovative consumer use cases. Europe is seeking to re-establish technological leadership lost to Silicon Valley and to China more recently, with 5G central to this goal alongside AI. These four economies plus Japan will account for more than 70% of the global 5G customer base by 2025.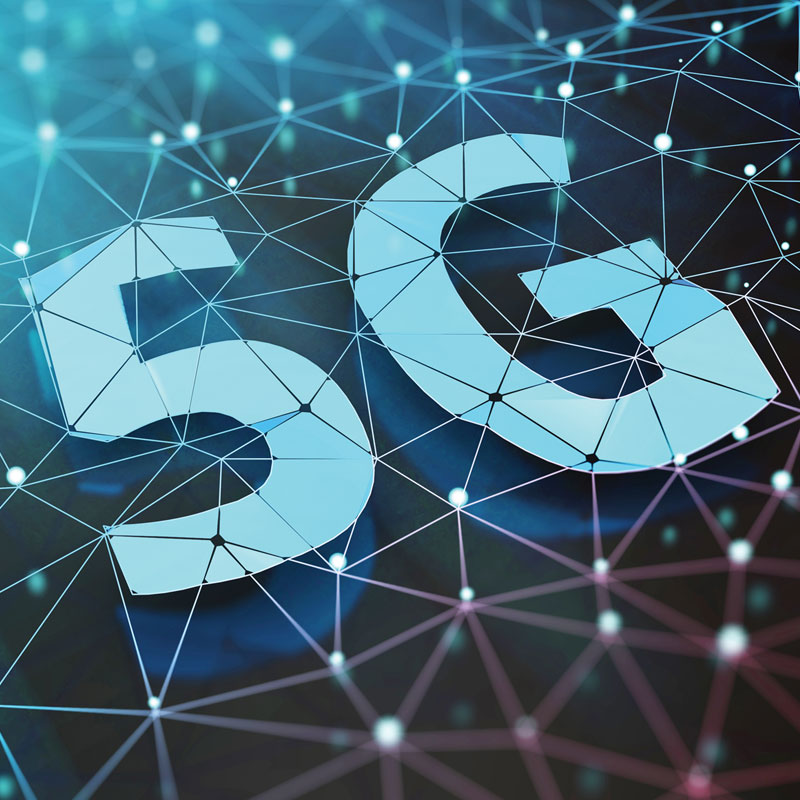 How will operators deploy 5G
---
4G and 5G networks will coexist and remain complementary well into the 2030s, with 5G as an added layer rolled out in a more targeted way. Most operators are targeting a phased approach to 5G network deployments, beginning with a non-standalone (NSA) architecture before eventual transition to a standalone model (SA). With this approach, operators are able to use existing macro sites and LTE spectrum as an anchor connection, with a densified network of small cells and use of mid-band (1-6 GHz range) and upper-band (above 6 GHz) spectrum to facilitate high-speed data services.
There will be variation as to when the SA model will be deployed, and in which areas. For some operators, a NSA or hybrid configuration could be a long-term solution. The rollout of SA networks, which involve the use of a 5G core and new radio, will begin in key locations of 5G demand. 5G requires denser network to meet both coverage and capacity objectives – this means greater investments in RAN. An 80-20% RAN/Core investment mix is a likely scenario over time in most markets in the 5G era.
5G will also add pressure to phase out 2G/3G networks – this may be a matter of when, not if. Repurposing some of the existing spectrum for 5G could help operators make the most of valuable assets, fulfilling coverage and demand for 5G services. Dynamic spectrum sharing also adds the potential of sharing spectrum between 4G and 5G within the same frequency carrier based on the traffic demand.
Regions will have different paces of 5G investment
---
Looking out to 2025, 5G network investment can be divided in three main waves.
Wave 1: Early deployments 2018-2020 – China, the US and Japan will make two thirds of the global 5G capex in this wave, investing a total of $140 billion. France, Germany, Italy, Spain and the UK add another $30 billion while continuing to invest in 4G. GCC operators also play a role (~$5 billion) although on a lower scale reflecting the size of their markets.
Wave 2: Ramp-up 2021-2023 – Europe accelerates on 5G more than doubling its 5G capex (nearly $100 billion in this phase) as other European markets enter the 5G era. China, the US and Japan go wider on 5G population coverage.
Wave 3: Wider spread in 2024 and beyond – This is when 5G in LATAM, MENA, CIS and part of Africa moves beyond early deployments in pioneer markets. Many markets in these four regions will have launched 5G commercial services by then.
Figure: Mobile capex by region. Source: GSMA Intelligence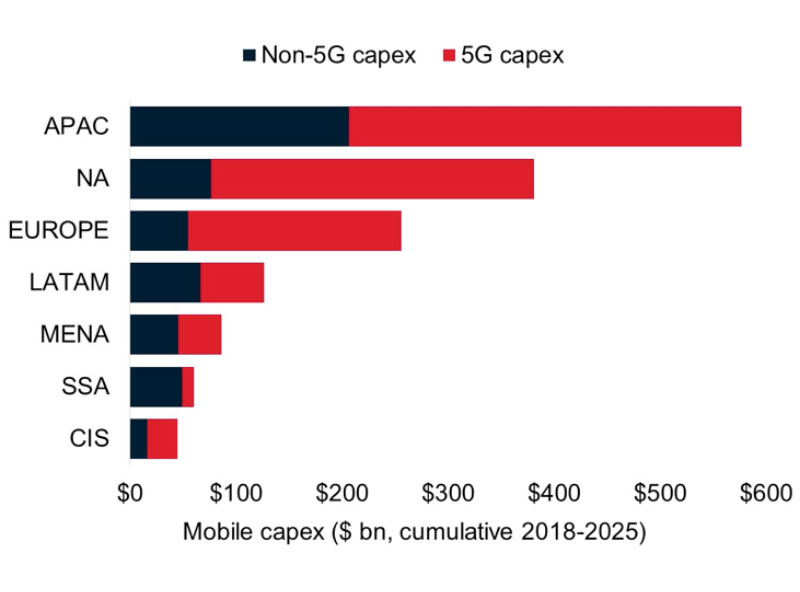 What could change the game?
---
Disruptive factors – whether positive or negative – are always out there. Incremental revenue from new services, regulation, cost of spectrum and new network models will accelerate or slow down the pace of 5G investments.
5G for FWA and enterprise are the new, previously unexplored, use cases – this means additional revenue for mobile operators. Most operator CEOs consider enterprise as the incremental opportunity, but getting the capabilities (i.e. SA networks, slicing, edge technology, spectrum) in place to fully service enterprises will take time. Some of the use cases, such as autonomous driving and smart manufacturing, also require greater tech maturity beyond the connectivity/platform layer.
New network models could also emerge, adding disruption. Private networks to service enterprises, infrastructure sharing and network automation are prime examples; each comes with challenges and open questions.
Private networks are a work in progress as the addressable market is still limited. Only 8% of enterprises planning large-scale IoT deployments also require location-specific coverage, according to our survey of enterprise IoT professionals. Operators are, in theory, the default provider but in practice there are multiple options from direct builds using reserved spectrum (e.g. Germany) to the use of global cloud companies like AWS and Microsoft.
Infrastructure sharing could help operators reduce 5G deployment costs; however its viability needs to be considered by looking at the business case and should be driven by commercial agreements rather than policymakers introducing rules that could slow the pace of 5G rollout.
AI-based network automation adds new possibilities to make 5G networks more efficient and agile. The good news is that there is early evidence of benefits for operators across various network dimensions; the challenge is that disclosure is fragmented and largely based on pilots or small-scale deployments. This makes hard to assess the long term impact of AI on network capex and opex. Beyond opex, network automation is also a foundation for new revenue over time as AI-powered and flexible networks allow operators to provide new, customised services to customers, particularly in the enterprise market.