By Jan Stryjak, Senior Manager, GSMA Intelligence
---
Asia Pacific striving for seat at mobile's top table; but 5G isn't the only thing on the menu
After years of excitement, speculation and hype, 5G has finally arrived, and the Asia Pacific region is at the forefront of its development. However, as the largest and one of the most diverse regions in the world, 5G is not the whole story. For those markets aiming to be global leaders of innovation, yes, 5G is a priority. But for others, focus areas range from getting the most out of 4G to increasing digital inclusion. Wherever the country sits on the development scale, mobile has a key role to play.
5G is here, but don't forget about 4G
---
5G is a reality. Following a commercial launch in South Korea earlier this year, five more countries will have launched 5G networks by the end of the year, and a further 10 are expected to launch in 2020. Some countries, particularly the more developed markets seeking to be global leaders in 5G (South Korea, Japan, Singapore and Australia) will see relatively rapid 5G growth: across developed Asia Pacific, 5G will account for half of total mobile connections by 2025. To aid in its development, many operators across these markets are investing heavily in AI and edge technologies, both of which are increasingly seen as critical components of the networks of the future.
Across the rest of the region however, the 5G opportunity is more long term, largely because there is still a lot of headroom for 4G (which is and will remain the dominant mobile technology across the region). Across developing Asia Pacific, 4G became the dominant mobile technology in 2018 (surpassing 50% of total connections), and it will continue to grow to reach 70% by 2025. It is unclear whether people in many of the region's emerging markets will potentially pay more for a 5G service, particularly when 4G will meet their needs in the majority of cases. We therefore expect 5G to account for 15% of connections in developing Asia Pacific (and China will account for most of this). The focus for these markets is to push advancements in areas such as digital commerce and payments, identity and cross-ecosystem collaboration to help create the digital societies of the future.
Developed Asia Pacific will be global 5G leaders, 5G opportunity in the rest of the region is more long term, with significant room left for 4G
% connections, 2025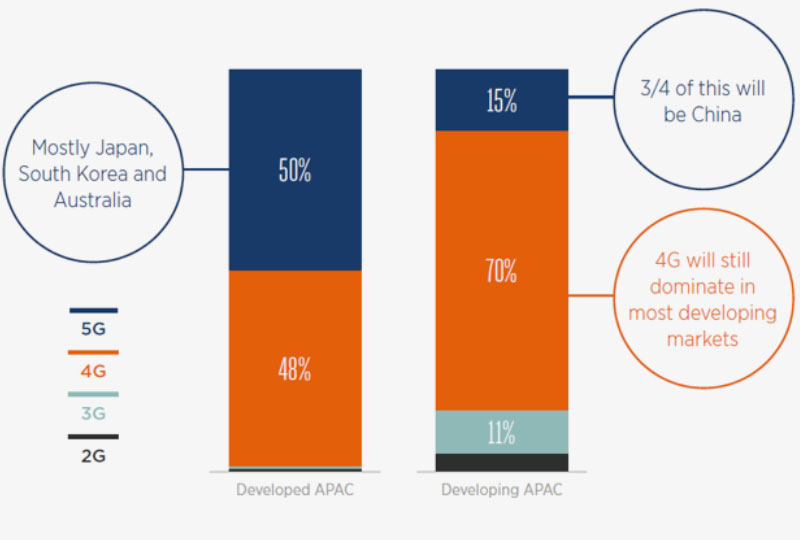 Source: GSMA Intelligence
Mobile boosting economic and social development
---
Stepping aside from all the 5G hype, mobile continues to make a significant contribution to socioeconomic development across the region.
At the end of 2018, 2.8 billion people across the region subscribed to mobile services – two-thirds of the population. The region has been the biggest contributor to global subscriber growth in recent years, with 466 million new subscribers added since 2014 (representing an average annual growth rate of 4.7% – the second highest regional growth behind Sub-Saharan Africa). More than half the world's mobile subscribers live in Asia Pacific – mostly in China and India.
However, growth is slowing, and the region's annual average subscriber growth rate out to 2025 will fall behind other regions such as MENA and Latin America. This is due to three key factors:
Asia Pacific is home to some of the most penetrated markets in the world, with minimal opportunity for further subscriber growth
the region includes markets with very low penetration levels, where socioeconomic issues such as rapid population growth, poverty, inequality, unplanned urbanisation and natural disasters create barriers to mobile adoption
some markets have seen their previously strong growth stagnate due to the challenges of connecting those still unconnected, particularly poorer and rural communities.
Nevertheless, Asia Pacific will account for more than half of new subscribers globally by 2025: by this time, we forecast 370 million new subscribers to be connected across the region, bringing the total to 3.1 billion, or 72% of the population. Around 90% of these new subscribers will come from six countries: India, China, Pakistan, Indonesia, Bangladesh and the Philippines.
Beyond basic connectivity, there are three other areas where mobile having a huge impact on people's lives across the region:
Digital inclusion: mobile is helping to close the connectivity gap in the region. Over the next seven years, 850 million people across Asia Pacific will start using the mobile internet for the first time, bringing the total number of mobile internet users in the region to 2.7 billion by 2025 (62% of the population).
Social impact: the growth in connectivity is helping the mobile industry increase its impact across all the UN's Sustainable Development Goals and is spurring adoption of mobile-based tools and solutions (for example, in agriculture, education and healthcare) that aim to improve livelihoods in low- to middle-income countries.
The economy: in 2018, mobile technologies and services in Asia Pacific generated $1.6 trillion of economic value (5.3% of GDP) – a contribution that will surpass $1.9 trillion by 2023 as countries increasingly benefit from the improvements in productivity and efficiency brought about by the increased take-up of mobile services. Further ahead, 5G technologies are expected to contribute almost $900 billion to the region's economy over the next 15 years, with sectors such as manufacturing, utilities and professional services standing to benefit the most.