By Sylwia Kechiche, Principal Analyst, IoT, GSMA Intelligence.
---
A tale of scale: enterprise IoT adoption in China
The enterprise appetite for IoT is immense. And while it may be the larger ones getting the attention, most of those deploying at present count as SMEs, with some being very small companies indeed1. GSMA Intelligence recently surveyed enterprises with upwards of 20 employees; this revealed that almost two thirds of enterprises had deployed an IoT solution by the end of last year2. China has the highest rate of enterprise IoT deployments globally, in fact 74% of Chinese enterprises have already deployed IoT.
If this adoption rate seems high, it possibly reflects the fact that many small enterprises are using IoT for "everyday" solutions rather than deployments in advanced areas such as AI and robotics, which are usually the focus of surveys. And although our characterisation of "IoT" in the survey is precisely defined, there no doubt remains confusion around the term in the wider market.
Nonetheless, there are some important takeaways and longer-term implications arising from the survey that show where the IoT enterprise market is heading.
Deployments still feel like proof of concept
---
Small is big in the world of enterprise IoT. The majority of IoT deployments are currently small – 77 per cent of existing deployments count fewer than 500 IoT devices (see Chart 1). This looks very similar in the Chinese context (78% of enterprises deployed less than 500 devices). The current scale of deployments suggests we are still very much in a trial phase. One of the reasons for the smaller scale is simply that smaller enterprises tend to deploy fewer devices.
Deployments will scale up as the market matures and new capabilities emerge. For example, a small retail organisation currently might be connecting their point-of-sale machines, adding security cameras, fleet management for their vans, smoke detectors and so on – even smart door locks. In the future, these devices could be supplemented by automated check-outs, beacons, inventory management, and even robots. But connecting devices is just one part of the story. IoT is really about data, and as more data is generated, collected and analysed, the application of artificial intelligence and machine learning will, in turn, lead to new use cases and further benefits. When it comes to data analytics Chinese enterprises excel: 93% of companies already use data analytics tools for IoT data vs 78% across all countries. Two thirds of Chinese companies are looking to include AI compared to 28% who already have. The government-backed Made in China 2025 plan, which outlines the country's ambition to lead on IoT, AI and robotics, is an important driving factor for greater proliferation of AI-based data analytics tools and solutions.
Chart 1: Current IoT deployment size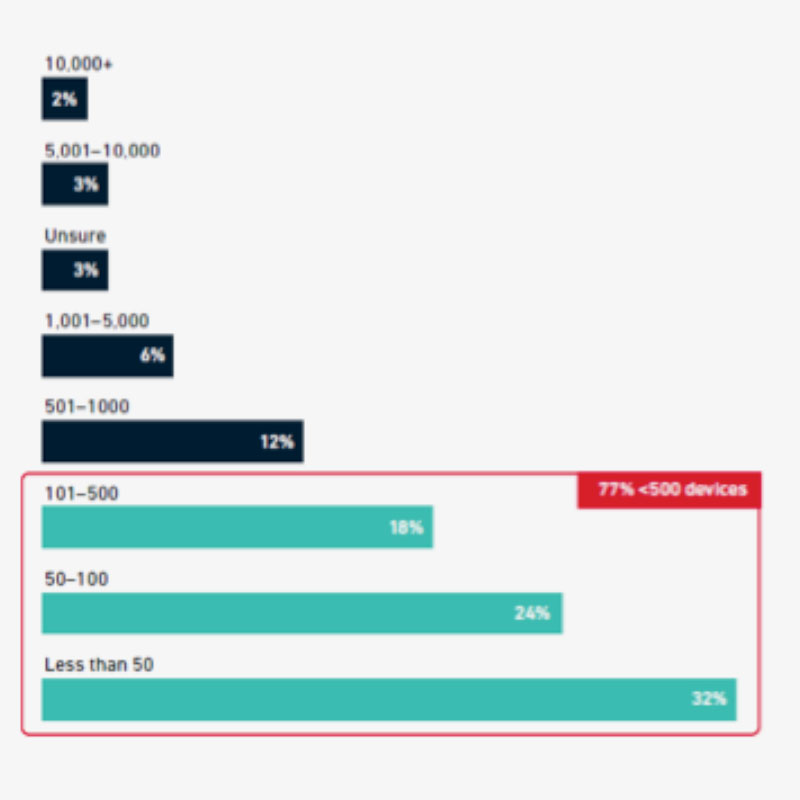 Source: GSMA Intelligence Enterprise IoT survey Q4 2018
Increased productivity is one of the key drivers of IoT adoption and success is measured through cost savings and process efficiencies. GSMA Intelligence estimates that IoT productivity impact in China equated to $36bn (0.26% of GDP) in 2018 and will almost triple by 2025 (0.4% of GDP). As the chart below shows even the lowest level of IoT deployment can yield cost savings of at least four per cent. As IoT device adoption increases so do the cost savings, albeit the incremental savings slow down as the company deploys beyond 5,000 devices.
Beyond that IoT creates additional opportunities for companies: tailored products and or services, better insights, and improved business processes to name a few.
Chart 2: Relationship between mean cost saving and deployment levels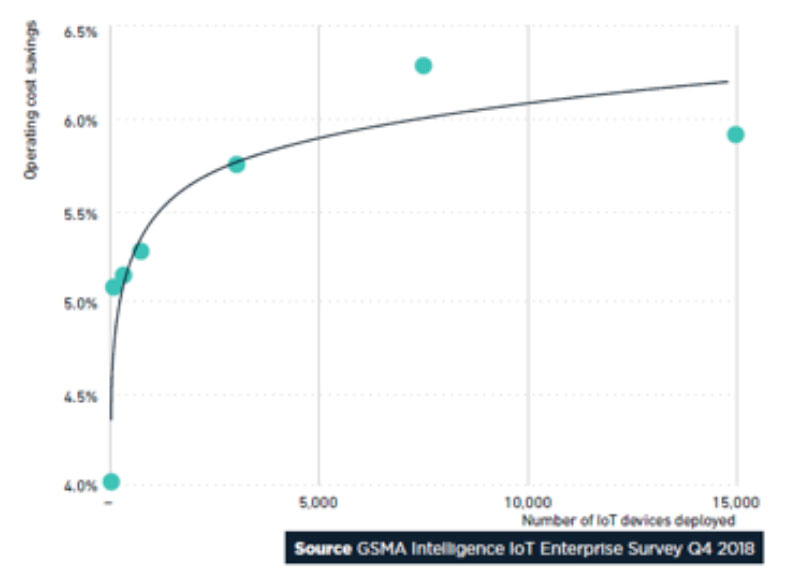 Challenges remain
---
IoT challenges remain around integration, security and cost, no matter the company size. Chinese enterprises encountered more challenges than average enterprise; for example 66% reported integration with existing technologies as a key challenge vs total of 47% while security and data privacy concerns are also more felt by Chinese enterprises (63%).
So what can be done to resolve this? We saw this year at Mobile World Congress Barcelona the theme of "making deployments simpler", where partnerships are emerging between different industry players aimed at addressing enterprise pain points around integration and security. For example, ARM's partnership with Vodafone and China Unicom on iSIM (Integrated eUICC)3 allows enterprises to avoid lengthy connectivity renewal negotiations. Meanwhile, Oracle/HERE4 and Azure/SAP both allow enterprises to more efficiently access useful data such as location analytics. In the Chinese context, Siemens Mindsphere became available on Alibaba Cloud in April 2019
Being able to address the small enterprise segment is one of the key challenges for any vendor, including mobile operators. It requires a different skillset, building blocks and relationships. Unfortunately, there isn't a one-size-fits-all recipe for success. It requires skilfully crafted partnerships across a fast-emerging and developing ecosystem to deliver on small enterprise needs.
1Company size definitions: Small: 20-99 employees, Medium: 100-500 employees, Large: 500+ employees
2https://www.gsmaintelligence.com/research/2019/03/iot-in-business-the-enterprise-voice-on-the-adoption-choice/738/
3https://www.vodafone.com/content/index/media/vodafone-group-releases/2019/arm-and-vodafone-commit-to-work-together-to-simplify-internet-of-things-deployment.html
https://www.arm.com/company/news/2019/02/arm-and-china-unicom-sign-partnership-agreement
4https://azure.microsoft.com/en-gb/blog/microsoft-and-sap-extend-partnership-to-internet-of-things/
5https://www.plm.automation.siemens.com/global/en/our-story/newsroom/siemens-mindsphere-alibaba-cloud/58946